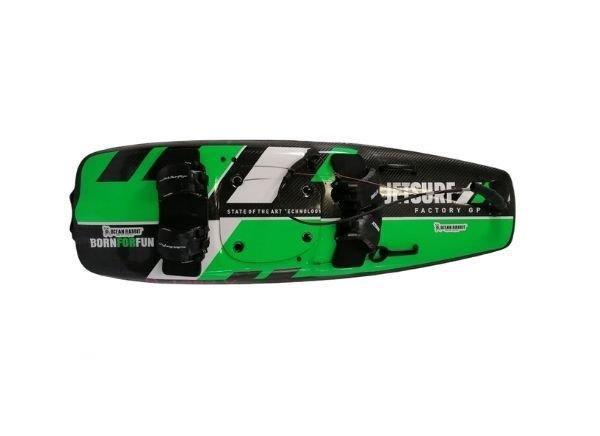 Jetsurf Board – Factory GP Green 2018 The Board for jetsurf beginners and hobby riders. Suitable for relaxed tours and pure driving pleasure. The board is in very good conditions with some little scratches. Only used 20 minutes for testing after full checkup and new piston, bearings and seals.
Model: Jetsurf GP Factory 2018
Production: 2018
Motor hours: –
Country of orgin: Germany
Accessories
Stand, Transportbag, Tools, Charger, Jetsurf fins, Manual
Additional accessories
Warranty: No
Warranty Date: –
Salt Water: Yes
Repairs / Remarks
full service check up. New piston, new bearings and sealing. New Handle in Summer 2021.
Price (EUR): 7.800,00
ALL PRICES ARE SUBJECT TO EVENTUAL TRANSPORT COSTS AND LOCAL TAXES OR CUSTOMS.
PLEASE CHECK THIS WITH THE SELLER AND YOUR LOCAL AUTHORITIES!